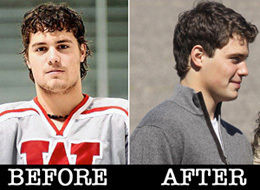 When it was revealed that Sarah Palin's daughter was pregnant, I, like many parent did not jump to condemn mother or daughter but thought "there but for the grace of God . . . ." I don't have daughters but it's the same thing when you hear of a son who has been caught drinking underage or smoking dope or far worse things. Until you have teenage children, I am not sure you can understand how little control you actually have.
On the other hand, I do not know a sensible parent who does have some feel for the values of the people their kids hang out with. It's impossible to police and you can call it helicoptering but it falls well short of real helicoptering -- like the mother who calls to complain about her son's grade.
So what to make of Levi that gun-toting, "I don't want kids (who thinks they do at 18), "Ya f - - - with me I'll kick [your] ass," I'm a f - - -in' redneck," maybe future son in law of the maybe future President? It is possible for a daughter to be close enough to someone so angry to be having sex and not have attentive parents notice? Or maybe Levi and the possible future first dude just hang together.
For me at least, executive experience starts at home and, if you try, some but not all things can be averted. Having your daughter hang with someone who definitely appears to be a bully and cannot find a condom suggests screwed up priorities or bad management.