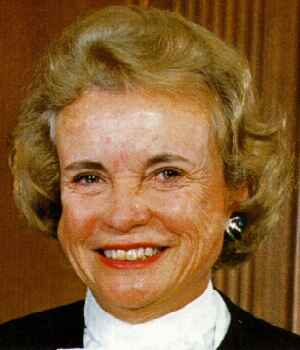 I am not sure it is possible to have less respect for former Justice O'Connor than I do. If the newspaper reports are right she was stunned that her retirement might be delayed by a Gore victory. Think of the sense on entitlement to think you should determine who replaces you. And thing of the lack of principles among those Justices who supposedly deferred to State processes until it came to
Bush v. Gore.
Finally, think of the hypocrisy of law faculties who hated her opinion and understood the lack of principle but have toasted her and fawned over her since her selfish action.
But ultimately is she any worse than the Nader voters who essentially gave the election to the Frat Boy President? In fact, had they not cast their petulant votes, the O'Connor issue would not have arisen. It is too strong to say they have blood on their hands but their carelessness can be traced to suffering of thousands.
It will take years to pull out of the eight year nightmare but for the first time in eight years I do not feel like I have to explain myself and the US when in the company of foreign friends. Finally, I can repeat to the truly upset McCain/Palin/NRA/Swiftboat people a phrase that was popular years ago and addressed to me: My country, Love it or leave it.